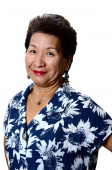 Hello and Welcome! Tell us a little about yourself to create your loan application. Let us help you take the first step to your dream home or investment.
Lena Sun, 28 Years of Mortgage Industry Experience, All Types of Loan Programs, Free Consultation, Free Loan Approval Letter, 703-220-0533 cell, [email protected], NMLS#225200. Learn more at mortgage4u.net/askLena
Are you working with a loan officer?
No
Choose a loan officer for me.
Yes
I will choose my loan officer.
Which branch do you want to work with?
Which loan officer do you want to work with?